Richard Idell is a vineyard owner and producer of wine, so he understands firsthand the challenges facing start-up and established vineyard and winery clients. Mr. Idell counsels vineyard owners and winery owners, wholesalers, retailers and other related businesses such as bottle purveyors, cork purveyors, vineyard managers, online wine retailers and wholesalers, etc. Whether the client is establishing a capital intensive winery operation requiring significant planning and land use issues or a virtual urban winery which owns no vineyards and is operating as an alternating proprietor, Richard Idell can assist in the myriad issues that arise. Because of his depth in copyright and trademark matters in the entertainment business, he is well versed in the challenges of establishing name brands, vineyard designations, wine name designations and related issues including trademark prosecution. In addition, once again calling on his experience in the entertainment business, he can advise on event planning and presentation, publicity and advertising issues, website issues, sponsorship and product placement. Mr. Idell  has decades of experience in obtaining municipal entitlements and can assist in the complex process of obtaining a use permit for winery or other wine facility or tasting room.  Mr. Idell served on the Board of the Sonoma Valley Vintners and Growers Alliance for two years from 2015 to 2017 and developed and chaired a committee on city, county and state regulatory issues. As such he was involved in a countywide committee on "winery event issues" which has now developed into a regulatory committee of the Sonoma County Vintners. In January of 2018, Mr. Idell joined the Board of Sonoma County Vintners. Mr. Idell is on the Board of Directors of the Wine Business Institute at Sonoma State University.  In addition, he represents winery applicants on new winery applications for conditional use permits and use permit modifications at both the level of the Board of Zoning Adjustments and on appeal to the Board of Supervisors.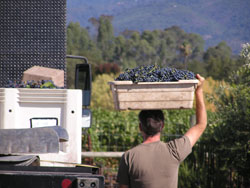 Transactions for the purchase and sale of vineyard and winery properties involve complex issues. Typically, in wine country real estate transactions, once the buyer has identified a property, the real due diligence begins. Mr.  Idell is very experienced in the due diligence and investigation that must be accomplished in such transactions. Mr. Idell is also a licensed real estate broker.
A typical real estate transaction involving a vineyard or winery can implicate issues such as water, boundary issues. Williamson Act, underground storage tanks, zoning, deed restrictions, fences of convenience, archeological issues, historic building issues, biological issues, easements, joint water system agreements, use or zoning permits, septic and waste water, wetlands and other environmental and planning issues.
Mr. Idell can counsel wine industry clients on:
Winery and tasting room permitting issues and the myriad land use issues pertaining thereto, including, but not limited to Williamson Act and Agricultural and Conservation Easement Issues.
Branding and trademark issues.
Copyright issues in label design, advertising and websites.
Alcohol regulatory licensing and compliance at both the state and federal level.
Employment law issues.
Drafting of independent contractor agreements.
Drafting of grape purchase contracts.
Advice on and drafting of easements, water rights agreements, boundary agreements, vineyard leases, vineyard management agreements, vineyard designation license agreements and other wine industry transactions.
Publicity and sponsorship issues.
Event planning, production and presentation.
Insurance and risk management.
Vineyard leases, grape contracts, vineyard management contracts and related issues.
Formation of partnerships, limited liability companies, limited liability partnerships or corporations for implementation of business plans.
Litigation concerning contracts, trademarks, copyright, employment, real estate, partnership and other corporate disputes, negligence in the provision of services and other litigation issues that arise.